Children
From Social Collaborative Singapore
Definitions and Scope
Target Population: Children
The world 'Child' (plural: Children) is used to define a human being between infancy and youth. It may also be used to describe a relationship with human parents (son or daughter). Legally, 'Child' is used to establish a clear distinction of age so as to withhold or accord legal responsibility and protection. The age of majority in Singapore is 21 but there is no single threshold age of majority for all purposes. The definition of child in Singapore differs under specific legislations.
The Children and Young Person Act (CYPA) 2001 defines a "child" as a person below the age of 14 and "young person" as a person who is between 14 and 16 years of age. A male or female person who is 7 years of age or above but below the age of 16 years is also termed a 'juvenile'. The act provides for the welfare, care, protection and rehabilitation of children and young persons who are in need of such care, protection or rehabilitation. It also regulates homes for children and young persons and consolidate the law relating to children and young persons.
The Employment Act defines a "child" and a "young person" similarly as the CYPA.
The Women's Charter defines "a child" as a child of the marriage who is below 21 years, and a "minor" as "a person who is below the age of 21 years and who is not married, or a widower or a widow". Under the women's charter, any person who has carnal knowledge of a girl below the age of 16 years, except by way of marriage, is guilty of an offence. Under section 375 of the Penal Code, a man is liable for an offence of statutory rape (and more) if he has sexual intercourse with a girl below the age of 14 years even with her consent. Section 377D of the Penal Code also states that sexual offenders above the age of 21 cannot claim ignorance or mistaken belief about the victim's age as a defence, while those below 21 years can, if that person is of the opposite sex, and if the offender has not committed any similar sexual offences before.
Under the Penal Code, a person under 7 years of age will not be held criminally responsible for his or her actions. The state will need to prove criminal capacity for a person between 7 and 12 years of age.
The Minimum Legal Age (MLA) for the purchase, use, possession, sale and supply of tobacco products is currently 18 but will be progressively raised to 19 in 2019, 20 in 2020 and 21 in 2021. The legal age to buy and/or consume alcohol in licensed premises in Singapore is 18. The legal age to apply for a driving license in Singapore is also 18.
Singapore acceded to the United Nations Convention on the Rights of the Child (UNCRC) in 1995, a treaty which comprehensively provides for the rights of children. The UNCRC defines a "child" as someone below the age of 18.
It is therefore evident that the age distinct definition of 'Child' in Singapore differs under specific situations. However the constant in all of these situations is a consensus that children have not yet reached full maturity of development and deserve the protection of a significant adults/guardians and society as well as the withholding of the rights and responsibilities accorded to that of an adult. This reflects a certain vulnerability associated with the state of childhood and that it is a separate state of being as opposed to adulthood. Children are therefore classified as vulnerable group in society.
Size of the Problem
There are 303693 children below 14 years of age in Singapore and 122911 juveniles aged between 15 to 19 based on the national census in 2017. Within these populations are various groups experiencing a wide range of issues and needs.
The Singapore Children's Society surfaced the following as the most pressing problems as experienced by Singapore children experience:
Mental Heath, Socio-emotional resilience and suicide amongst children and youth

Depression and anxiety are on the rise amongst children and youth. Between 2013 and 2014, self harm cases increased 15% amongst children under 14 years old in Singapore.
According to an Agape report, 1 out of 50 children in Singapore have experienced suicidal thoughts; 1 out of 200 have attempted suicide.
Client Segments
Page to Children facing Mental Health Challenges
Page to Children from Low Income Families
Page to Childcare and Parenting
Page to Children and Bullying
Page to Child Abuse
Desired impact for target group
A childhood free of abuse and neglect where basic physical, intellectual, emotional and social needs are met.
Needs of Children in Singapore
---
Need for affordable, accessible and quality early childhood education
Average cost of early childhood education is about $1k but premium brands charge up to twice the amount (ST 18 Sep 2017) There could be a better balance between profit and social equity in this sector. Besides the issues of accessibility and affordability, Singapore also needs to raise standards of quality in preschool education. (Lien Report 2012)
Quality is heavily dependent on early childhood educators, in terms of the standards of their curriculum and teaching. Singapore currently faces a demand crunch in qualified and committed preschool educators, most especially, 'a bigger pool of preschool Chinese teachers, in order to build a stronger bilingual foundation for young children' (Today 11 Aug 2017) There is also a need to look into retaining teachers in this sector given the high attrition rates. (Today 8 November 2013)

Existing Resources
In order to centralise and raise professional standards of early childhood educators National Institute of Early Childhood Development (NIEC) has been set up. NIEC will provide the full range of diploma and certificate programmes for pre-school professionals under one institution.
Gaps and Their Causes
Dr Chan Lin Ho, a senior lecturer in early childhood education at the Singapore University of Social Sciences (SUSS), said pricing is not a reliable indicator of quality, which also encompasses how adults interact with children at a pre-school (ST 18 Sep 2017)
Possible Solutions
Dr Theresa Lu, SUSS' head of early childhood education programmes, added that pre-schools that do not have extensive facilities can use resources in the neighbourhood "to provide the extension of learning experiences for children beyond their classrooms" (ST 18 Sep 2017)
---
Need for adequate parenting
Existing Resources
Gaps and Their Causes
Possible Solutions
-Licensing and monitoring of parents: LaFollette (2010) on a licensing system for parents. However, this risks wrongly categorizing some parents as incompetent parents since there is no perfect predictive instrument. Monitoring of parents will allow balance of the values of privacy and of protecting children from harm. (See Allyn Fives, 2017 Evaluating Parenting Power: chapter 8 on Licensing, monitoring and training of parents)
---
Need for support for child development
The children today will be the key drivers of our future economy. In particular, early childhood is a critical phase that has lasting impacts on children's holistic growth and learning potential, more than any other societal intervention that can be provided later on in their lives. According to the World Health Organisation, 0–8 years of age is a period in which the child has the highest capacity for change and the foundation for future wellbeing is laid. Given that growth is influenced by context, it is important to be cognisant of the influencing factors that environment in which children grow up in. The ECCE sector has a part to play in nation and community-building, supporting child development, gender equality and an active workforce. 
In Singapore, policymakers are identifying new areas of growth amid rapid societal changes. One key area is to equip the young with the necessary and conducive environment for children to support their happiness and health. A large body of literature provides evidence for the notion that early childhood exposures to factors rooted in the social world have significant effects on cognitive and schooling outcomes, physical health, and future determinants of health (such as economic success) in later life. Hence, practices that cater to diverse income groups and backgrounds, and the learning and development of children with different needs, in collaboration with other professionals, will reap the best benefits.
Existing Resources
At National Day Rally 2019, Prime Minister Lee Hsien Loong outlined significant enhancements in the early childhood sector to give every child a good start in life and to support families with young children. These moves build on the Government's efforts since 2012 to raise the quality, accessibility and affordability of preschools. Overall, these enhancements are expected to more than double annual government spending on the early childhood sector over the next few years, from around $1 billion in 2018.
More families to enjoy higher preschool subsidies
Currently, all families with Singapore Citizen children attending childcare and infant care programmes receive a Basic Subsidy. Families also receive a means-tested Additional Subsidy if the mother is working and the gross monthly household income is $7,500 and below (see Table B-4 and B-5).[1]
In addition, families with Singapore Citizen children attending kindergarten programmes by Anchor Operators and the Ministry of Education (MOE) receive a means-tested subsidy under the Kindergarten Fee Assistance Scheme (KiFAS) if their gross monthly household income is $6,000 and below (see Table B-6).
From January 2020, the Government will raise the gross monthly household income ceiling for Additional Subsidy and KiFAS to $12,000. This is estimated to benefit an additional 30,000 families, up from 41,000 families receiving these means-tested subsidies today. Larger families with three or more dependants can continue to have their income assessed on a per capita basis, which may qualify them for higher means-tested subsidies.
Families can use the Subsidy Calculator on ECDA's website (see [2]) and GovTech's Moments of Life app to estimate their fees payable after subsidies.
More access to quality and affordable government-supported preschools
The Early Childhood Development Agency (ECDA) provides funding support to Anchor Operators and Partner Operators, so that they are able to provide quality and affordable preschool services, where fees are capped (see table below). MOE Kindergartens catering to children aged 5 and 6 also serve as a platform for developing and delivering a quality preschool curriculum based on the Nurturing Early Learners framework, and to catalyse quality improvements in kindergarten education.
Fee Caps for Anchor Operators & Partner Operators: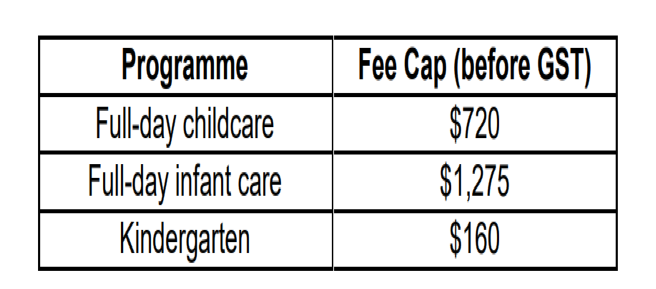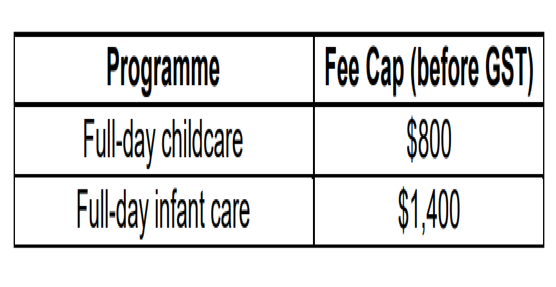 The Government announced plans to expand its provision of government-supported preschool places to improve preschool quality, affordability and accessibility. 80 per cent of preschoolers can have a place in a government-supported preschool by around 2025, up from just over 50 per cent today. This proportion of government-supported preschools will be broadly comparable to what is provided in the housing and healthcare sectors. The expansion of government-supported preschool places will be driven mainly through the expansion of Anchor Operator and Partner Operator preschools. 
The Government also announced plans to continue its current approach of facilitating the establishment of more Anchor Operator preschools in tandem with new public housing and in areas of demand. In addition, ECDA will expand the Partner Operator scheme with a new call for applications from childcare operators, for a five-year term starting from January 2021. 
ECDA is developing a scheme for a small number of quality kindergartens to join as Partner Operators by 2021. KiFAS will be extended to children enrolled in kindergartens appointed as Partner Operators. Similar to childcare Partner Operators, kindergartens that join as Partner Operators will have to meet conditions to ensure affordability, quality, and full accessibility for all segments of the public.
Source:
https://www.ecda.gov.sg/PressReleases/Pages/Making-quality-preschools-more-affordable-and-accessible.aspx 
https://www.channelnewsasia.com/news/singapore/pre-school-subsidies-fees-increased-income-josephine-teo-11848782
https://www.straitstimes.com/singapore/more-childcare-subsidies-with-applications-made-easier

KidSTART Programme 
Source: https://www.ecda.gov.sg/Parents/Pages/KidSTART.aspx
KidSTART is a pilot programme led by Early Childhood Development Agency (ECDA) for low income and vulnerable young children to have a good start in life. Programmes have been conducted in pilot regions: Geylang Serai, Bukit Merah/ Kreta Ayer and Taman Jurong/ Boon Lay.
Under the KidSTART programme, mothers can get onboard when they are expecting, and trained officers support the family until the baby arrives, and into preschool. 
Eligibility Criteria of KidSTART
  ·   ​Singapore Citizen children aged up to 6 years old
  ·   ​​Low-income household, more specifically those who have a gross monthly household income of below $2,500 or per capita income of $650 and below
  ·   Residing in one of the pilot regions
Note: Geylang Serai, Bukit Merah/ Kreta Ayer and Taman Jurong/ Boon Lay 
There are three key components
KidSTART Home Visitation Programme (HVP)
What is it? Through regular home visits, parents will receive support in skills and practical knowledge across areas of child growth, development, health and nutrition. Regular screening of the child's development and maternal well-being will also be conducted over a period of 3 years to identify and treat issues early.  
Who conducts it? ECDA has partnered KK Women's and Children's Hospital (KKH) to jointly deliver the HVP. This leverages the mutual strengths across the health and early childhood domains for a multi-disciplinary approach to KidSTART. Home visitors are professionals with qualifications and/or relevant experience in sectors such as health, early childhood or social services. They are supported by multi-disciplinary professionals, such as paediatricians and nurses, to ensure that the home visitors are able to address the needs of parents and children. 
Group Connect: monthly group session/ support network that support families in peer support networks. 
Depending on the family's needs, the child will also be enrolled into an appropriate pre-school programme.
2. Supported Playgroups 
What is it? The community-based sessions help parents and caregivers build up skills in child development and parent-child bonding through an evidence-based curricula of structured and purposeful play. Supported playgroups are playgroups supported by facilitators who are usually trained in early childhood development and with the skills to engage and support families/parents. The facilitators coach parents in child development and parenting skills, and provide an avenue for parents to connect with peers. 
Who conducts these sessions? The sessions are delivered by ECDA-trained facilitators who have past experience working with young children and families.  
Volunteers (or Friends of KidSTART) are also deployed to work with KidSTART partner agencies to engage with children (from 0 to 3 years old) and/or their older siblings (mainly from 4 to 12 years old) from lower income families and engage them in interactive activities.
3. KidSTART Enhanced Support to Preschools 
Selected pre-schools are also provided with additional resources to improve support and engagement with parents, and to improve the child's school readiness. This include addressing barriers related to poor preschool attendance and referrals to other support programmes to ensure their developmental needs are addressed. Eligible children who are currently enrolled in these preschools will be included in this component.
Gaps and Their Causes
Currently, there is no one definition of quality in early childhood education. These include teacher-child ratios, group size, the planning of learning activities, teacher-child interactions, in addition to the qualifications, training and experience as well as cultural background, beliefs and values of teachers.
Inclusive Support Programme (InSP)
The InSP Programme is a pilot programme launched by Early Childhood Development Agency (EDCA) on October 2021. Targeting preschools, the programme seeks to strengthen inclusion and support for children with developmental needs within preschools. The programme will be rolled out by 7 preschools across Singapore progressively from October 2021 to June 2022:
Small Wonder Nordcom II
My First Skool at Blk 406 Woodlands
MOE Kindergarten @ Mayflower (Note: The preschool will be moved to it's permanent site at Ang Mo Kio by June 2022)
My First Skool @ Blk 248 Kim Keat Link
PCF Sparkletots @ Pasir Ris West Blk 517
PCF Sparkletots @ Fernvale Blk 455
PCF Sparkletots @ Bukit Batok Blk 118
These preschools are run under four providers: the Ministry of Education (MOE), PAP Community Foundation (PCF), NTUC First Campus (NFC), and Busy Bees Singapore. These providers and preschools were carefully selected based on an assessment of their experience and expertise in providing early childhood and early intervention services; their understanding of the key InSP features; and their ability to fulfil the InSP service requirements.
Target Group
The InSP aims to help children with developmental needs aged three to six, who require medium levels of early intervention support, to access both early childhood education and early intervention within a preschool.
Key Features of the InSP Pilot
The seven pilot preschools aims to implement the following features of the InSP:
a. Child – Supporting children's early intervention needs within the preschool
Specialist support from full-time early intervention professionals and visiting allied health professionals will be made available in InSP preschools, so that children no longer need to travel between preschools and early intervention centres. Intervention hours under the InSP will be delivered within preschool hours, and will be similar to those of the Early Intervention Programme for Infants and Children (EIPIC), ranging from 5-12 hours weekly.
Each child under the InSP will be supported by an Individual Programme Plan (IPP), developed in consultation with family members and relevant professionals. The IPP details the child's education and intervention goals. Each child's IPP will be executed through in-class support and/or pull-out sessions, depending on the child's needs and progress made. This will be in addition to the current progress monitoring that preschools provide for all children.
b. Class – Cultivating inclusive practices in the classroom
Early childhood educators and early intervention professionals will co-plan and co-teach classes and learning activities using differentiated teaching practices, so that children with developmental needs are able to learn according to their pace and abilities, thereby benefiting from a richer classroom experience.
Early childhood educators and early intervention professionals will also work with the allied health professionals to embed early intervention strategies into children's daily preschool routines.
c. Centre – Fostering an inclusive ecosystem
InSP preschools will comprise a diverse mix of children, with typically developing children still forming the majority. This ensures that classroom dynamics remain led by typically developing children, while catering to children with developmental needs.
InSP preschools will step up efforts to build an environment conducive towards inclusion, through cultivating an inclusive organisational culture and modifying the physical preschool environment where appropriate. This could be in the form of larger walkways and a variety of gym equipment, among other features.
d. Community – Families as core partners
To foster family-centre partnerships, InSP preschools will actively engage parents and/or caregivers to involve them in their child's progress and development.
InSP preschools will provide support such as consultations, counselling, and training or workshops to help families develop skills to embed early intervention routines in the home environment.
Source
https://www.ecda.gov.sg/PressReleases/Pages/Launch-of-Inclusive-Support-Programme-(InSP)-Pilot.aspx
https://www.ecda.gov.sg/Documents/Advisory/EI/Launch%20of%20Inclusive%20Support%20Programme%20%28InSP%29%20Pilot%20-%20Annex%20A%20to%20D.pdf
---
Need for [ insert description ]
Existing Resources
Gaps and Their Causes
Possible Solutions
---
Need for [ insert description ]
Existing Resources
Gaps and Their Causes
Possible Solutions
---
Resource Directory
Mainly I Love Kids (MILK)
Social Care Institute for Excellence (UK)
Independent charity that identifies and shares knowledge about what works and what's new, with huge focus on children's services