Disability Community Network
From Social Collaborative Singapore
Purpose
Vision
A strong, self-mobilised and collaborative disability community that appreciates the needs of the disability sector and takes collective action to improve the lives of people with disabilities.
Mission
A coherent network of disability organisations, VWOs and other relevant community assets that truly and authentically represent the interests of the disability community. This network will also democratise knowledge production (as knowledge is power, it puts power back in the hands of those close to the ground) and strengthen civil society (by allowing collective action without the need to rely on government resources).
Objectives
Collectively mapping out the needs and gaps of the disability sector
Providing inputs to the government on existing or emerging issues
Peer exchange, learning and collaboration among partners
Products of the Network and Its Uses
Knowledge Work: Take stock of information and updating the knowledge base through Wiki Pages

Collective understanding of the sector is more comprehensive and robust than individual vantage points by themselves
Information on needs, community resources and gaps allows strategic planning for partners' own organisations, in response to and coordination with other organisations
Partners will get user ids that allow them to directly edit the wiki pages if they want to. This allows the wiki pages to be constantly updated with new information partners think will be pertinent to share with one another.

Policy Advocacy

Deliberate on issues & write Policy Briefs representing the views of partners
Partners will get reports of the issue to be discussed before every Roundtable to establish an overview of basic information. This will allow the facts to be quickly established and corrected before moving on to the deliberation of key issues.
Instead of Enabling Masterplan led by MSF that consults the sector every 5 years, this can culminate in an Annual Needs & Gaps Report based on research and deliberation with other partners that can be surfaced to relevant stakeholders. Such analyses is more likely to be taken seriously by government if they represent the collective wisdom of disability organisations and groups, and especially if they arrive at consensus on certain positions

Collaboration Among Partners

Partners have access to one another's contact information, possibly start a LISTSERV or other modes of communication among partners
Partners can share resources and collaborate on projects without the need to rely on a central authority (e.g. joint research projects, collective fund-raising, sharing venues or pooling manpower etc)
How Will the Network be Run
Participants will submit agenda items, and Facilitators will help structure each meeting based on the agenda.
Issues selected for discussion should be broad themes (e.g., Employment or Education). These will be spread out over 4 main Roundtables (one per quarter).
Those with an interest in niche issues (e.g Deaf culture, Disability Arts etc) can host subsidiary meetings pulling together those with common interests. Their findings and proposals can then be shared with the main network.
For those who are keen, Planning Meetings can also be convened to discuss the content and structure of subsequent Roundtables.
General Guiding Principles
Play-testable; not need to get it all right in the beginning: These principles and rules should be work in progress and seen as such. There is no need to be overly concerned with getting them right if they will continuously be reworked and refined. More important to focus on the work itself, and getting to a set of principles that allow the work and objectives to be done. We expect these principles and rules to be more functional after a year of experimentation.
All-can-contribute: it doesn't matter who you are, as long as you are interested and have something to contribute, we aspire to find a place and role for you to play that you feel comfortable with
Collaboration across community assets: empowering individuals and organisations to mobilise others operating in their sector, overcoming artificial boundaries (VWO, NGO, social enterprise, self-help groups, cooperatives, faith-based organisations etc) and competition as the only viable operating principle.
Persuasion instead of politics: No need for politics or power plays if there is no need to have one view and everyone move towards it; we can capture the diversity of views
Facilitator(s)
Institute of Policy Studies - Justin Lee (email: justin.lee@nus.edu.sg)
We welcome other disability organisations or groups who would like to co-facilitate the Network
Facilitators of Niche Networks
Hearing Impairment: ExtraOrdinary Horizons - Lily Goh
Arts & Disability: Very Special Arts - Maureen Goh
[Add link to facilitators' contact information (only accessible to partners)]
Associates and Contributors
Victor Zhuang - PhD Candidate at Department of Disability and Human Development, University of Illinois at Chicago
Roshini Prakash - NVPC's Disability Colabs
Network Agenda for 2018
Main meetings should be based on broad themes of general relevance to most of our partners. For example: Early intervention, education, employment, caregiving, community inclusion etc. Specific or niche issues can also be studied by sub-groups of the network and brought to the Network for incorporation to the annual Disability Needs & Gaps Report.

Deprecated: The each() function is deprecated. This message will be suppressed on further calls in /var/www/mediawiki-1.29.1/extensions/Widgets/smarty/libs/sysplugins/smarty_internal_compilebase.php on line 78

Roundtable 1: Employment

Date - Friday, 11 May 2018
Time - 1.30 pm - 5.45 pm
Venue - Seminar Room 2-2, Level 2, Manasseh Meyer Building, Lee Kuan Yew School of Public Policy, National University of Singapore (Bukit Timah Campus)
IPS Newsletter Article here.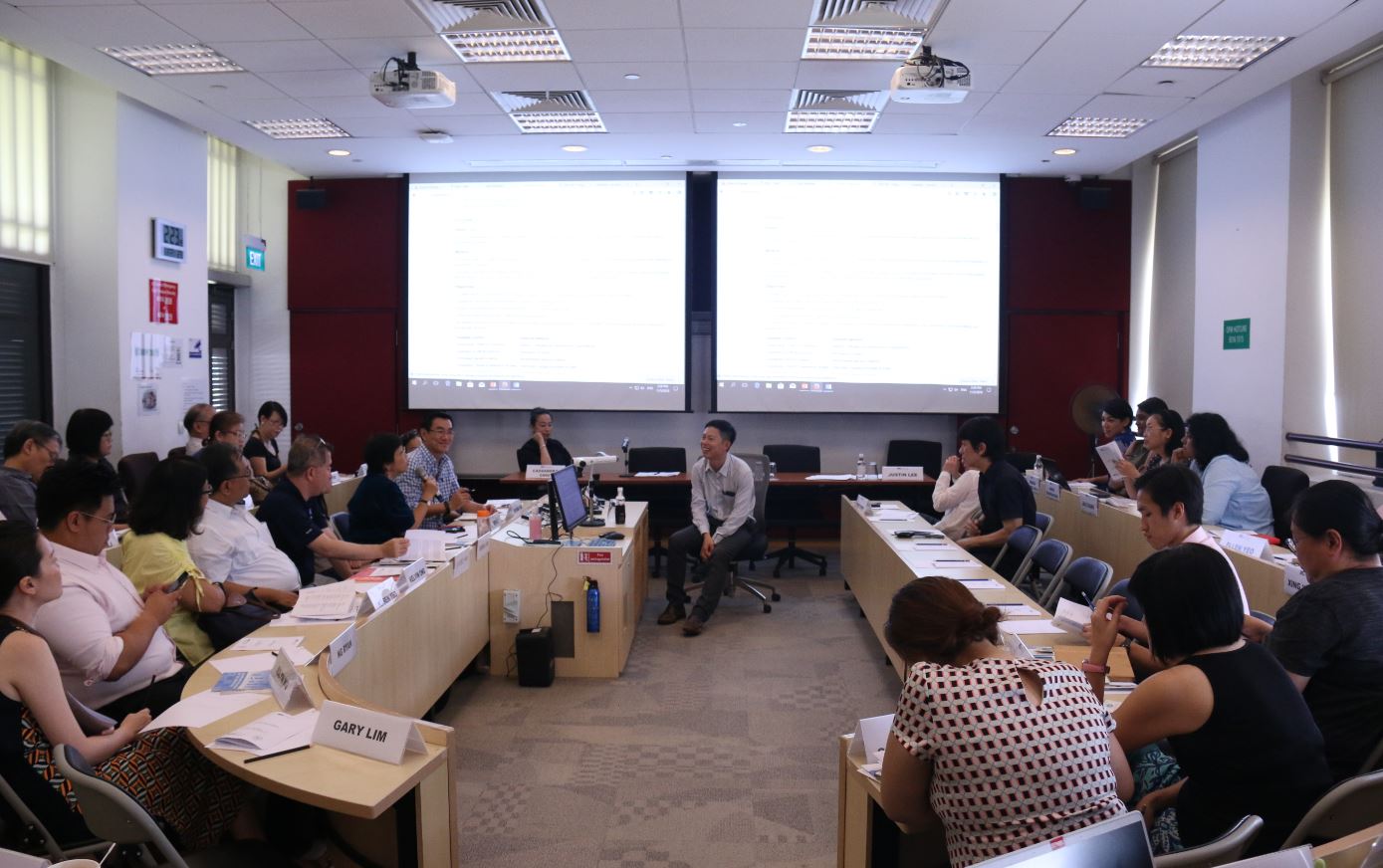 Dr Justin Lee, Research Fellow at IPS and co-facilitator of the event (centre), demonstrating the SocialCollab Wiki platform.

Agenda
Update on Network Objectives & partnership
(See substantive agenda items tabled below)
Materials & Presentations :
https://drive.google.com/open?id=1MV43hH4ThwykSJWMe69drhl78xNhS79l

| No. | Agenda Item | Presenter |
| --- | --- | --- |
| 1 | Facilitated Dialogue to Consolidate a Collective Understanding of the Employment Landscape | IPS |
| 2 | Special Needs Individuals and Employment Issues | Hope for the Journey |
| 3 | Exploring Characteristics of Successful Open employment from the Perspectives of Person, Caregiver and Employer | MINDS |
| 4 | APSN Delta Senior School's new Employment Training Model | APSN Centre for Adults |
| 5 | Assistive Technology (AT) at Work: How Job Accommodations including AT can Enable Persons with Disabilities to be Productive at the Workplace | SPD |
| 6 | Studying the Feasibility of an Employment Quota for Persons with Disabilities | IPS |
| 7 | The IPS-DPA Study on Discrimination in the Workplace | DPA |
---

Date - Tuesday, 21 August 2018
Time - 1.45pm - 5.30pm (Registration begins at 1.30pm)
Venue - Swensen's Room (Blk E Level 2 Room 2), APSN Delta Senior School, 3 Choa Chu Kang Grove, Singapore 688237
IPS Newsletter Article here.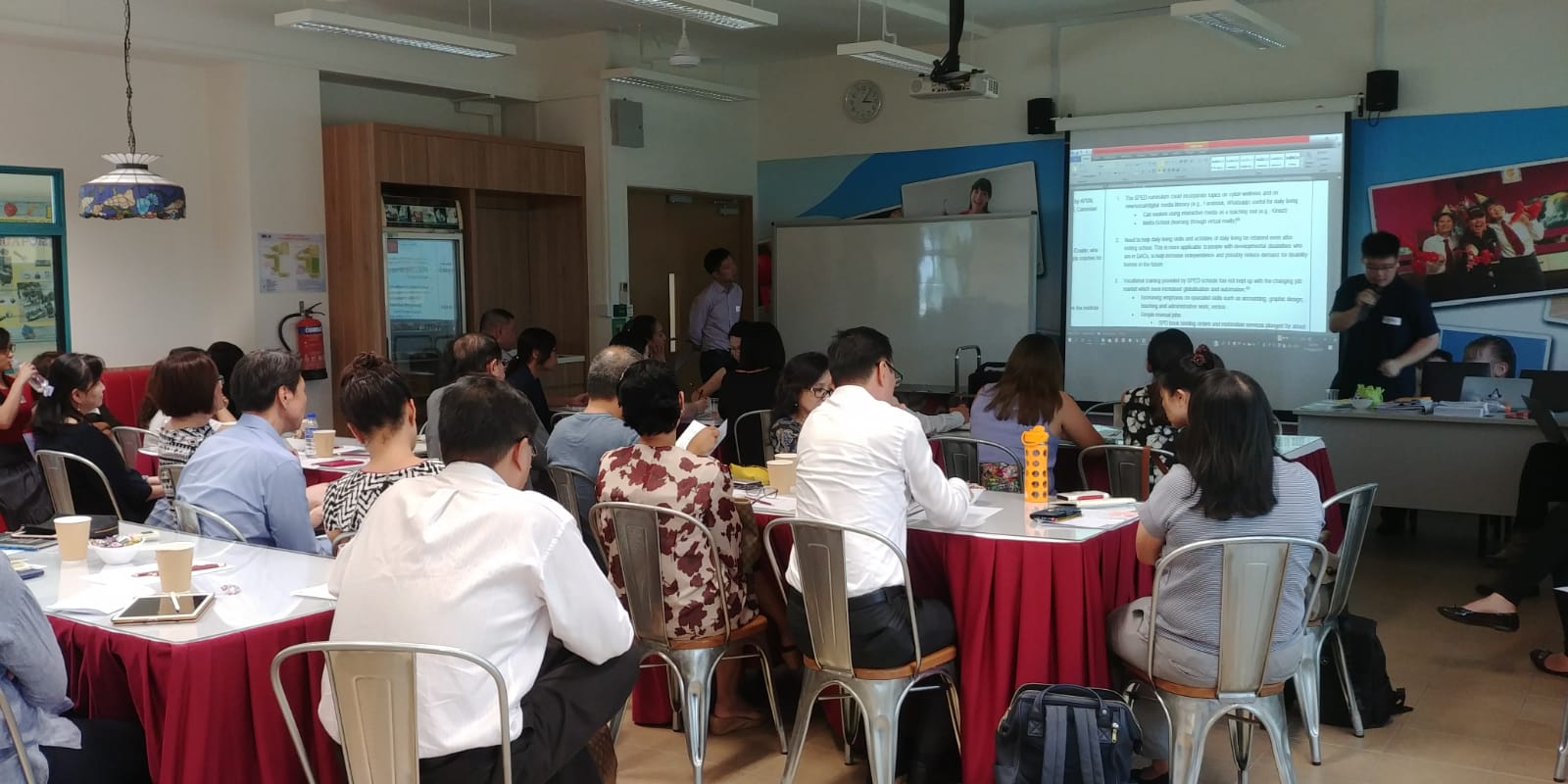 IPS Research Assistant Andrew Lim, sharing about the Needs & Gaps Report on Education
Agenda
Update on Network Objectives & partnership + Follow-ups from Roundtable I: Employment (11 May)
(See substantive agenda items tabled below)
No.
Agenda Item
Presenter

1

Consolidated Views on Employment & Education: The Needs & Gaps Report so Far
IPS

2

Proposed Guidelines for Disability Services in Singapore's Institutes of Higher Learning
SMU

3

Views of Parents from ASD Parents Support Groups
Hope for the Journey, CASPER

4

Virtual Reality for the Learning of Daily Living Skills
Metta School

5

I. Digital Education and Literacy for Persons with Developmental Disabilities

II. Educational Kinesiology

Society Staples
Materials & Presentations :
https://drive.google.com/open?id=1vsRlBrrMkqeq7MqjhXMgdoWdSOMcN9vP
No.
Agenda

1

The event started at 1.45pm. IPS Research Fellow Justin Lee and Marissa Medjeral-Mills, Executive Director of DPA updated on follow-ups to the first roundtable of the Disability Community Network, which discussed issues pertaining to employment:

A group to study the feasibility of an employment hiring quota for persons with disabilities in Singapore was formed
IPS has started putting together two Needs and Gaps Reports on Employment and Education—with more to come on other issues such as Caregiving.
DPA has soft-launched their study (with IPS) on discrimination faced by people with disabilities in the workplace.
DPA has updated their 'Achieving Inclusion in Education' document to incorporate changes to the Compuslory Education Act, which takes effect in practice next year.

More details about the first roundtable can be found here.

2

Mr Andrew Lim, Research Assistant at IPS discussed a Needs and Gaps Report on Education compiled from various literature reviews (e.g., NVPC's Report on Issues faced by Persons with Disabilities in Singapore, Lien's Inclusive Attitudes Survey, newspaper articles etc.). We discussed gaps in six tentative areas of needs: early intervention, preschool options, trained educators, access to an adequate education, accommodations, and preparedness for work and life.

3

Ms Nix Sang, Research Associate at SMU presented a project she's working on to develop guidelines, resources and professional programmes for disability services in IHLs in Singapore. Often lacking guidance, frameworks and guiding principles, Nix and her team conducted interviews with practitioners and overseas experts to talk about challenges, successes and wishes for disability services in IHLs. The substantive findings and report will be published in early-2019.

4

ASD Parent Support Groups Hope for the Journey and CASPER presented some parents' views on a number of issues, such as how parents decide to choose between a SPED or mainstream school for their children, how mainstream teachers need to be trained in special educational needs, and how to better achieve a smooth transition from school to work.

5

Ms So Kah Lay, Principal of Metta School presented on the school's use of Virtual Reality in the learning of daily living skills such as road safety (crossing the road at traffic lights or zebra crossings), taking transport, and shopping. According to Ms So, the benefits of VR learning are manifold:

One, everyday scenarios are broken down step-by-step for students to comprehend.
Second, gesture-based interactive experiences appeal to students who are kinaesthetic learners.
Third, students are exposed to scenarios and to face the 'consequences' of their poor decision-making without compromising their safety. Aside, social skills are also taught such as choosing non-priority seats, and queuing up before boarding.

6

Social enterprise Society Staples shared two items which they are seeking feedback, comments and inputs for.

The first was a digital literacy course that they are developing to teach persons with developmental disabilities digital literacy, e.g. sending an email, using Google Maps and using the internet. It is funded by the LearnSG Seed Fund, and includes an 'Inclusive Local Guide' in local places of interest such as the National Gallery of Singapore and the National Museum of Singapore.

The second item is a pilot of 20 movement-based activities based on principles of educational kinesiology, done in conjunction with MINDS MeToo! Club at Kembangan Chai-Chee Community Hub over 9 months. Society Staples shared testimonials about how clients have benefitted from the sessions, and that they are currently enhancing the programme towards another run in the fourth quarter of 2018.

7

In closing, Justin invited participants to share their thoughts about how the event did well, as well as areas for improvement. Roundtable 3 on Caregiving will be coming up, and IPS is looking for an event sponsor and host (e.g., CAL, or the Caregivers' Space at the Enabling Village). 
---
Date - Thursday, 29 November 2018
Time - 1.00pm - 5.00pm (Registration begins at 12.30pm)
Venue - Lighthouse Room, Muscular Dystrophy Association (Singapore), 9 Bishan Place, #06-04, Junction 8 Office Tower, Singapore 579837
IPS Newsletter Article here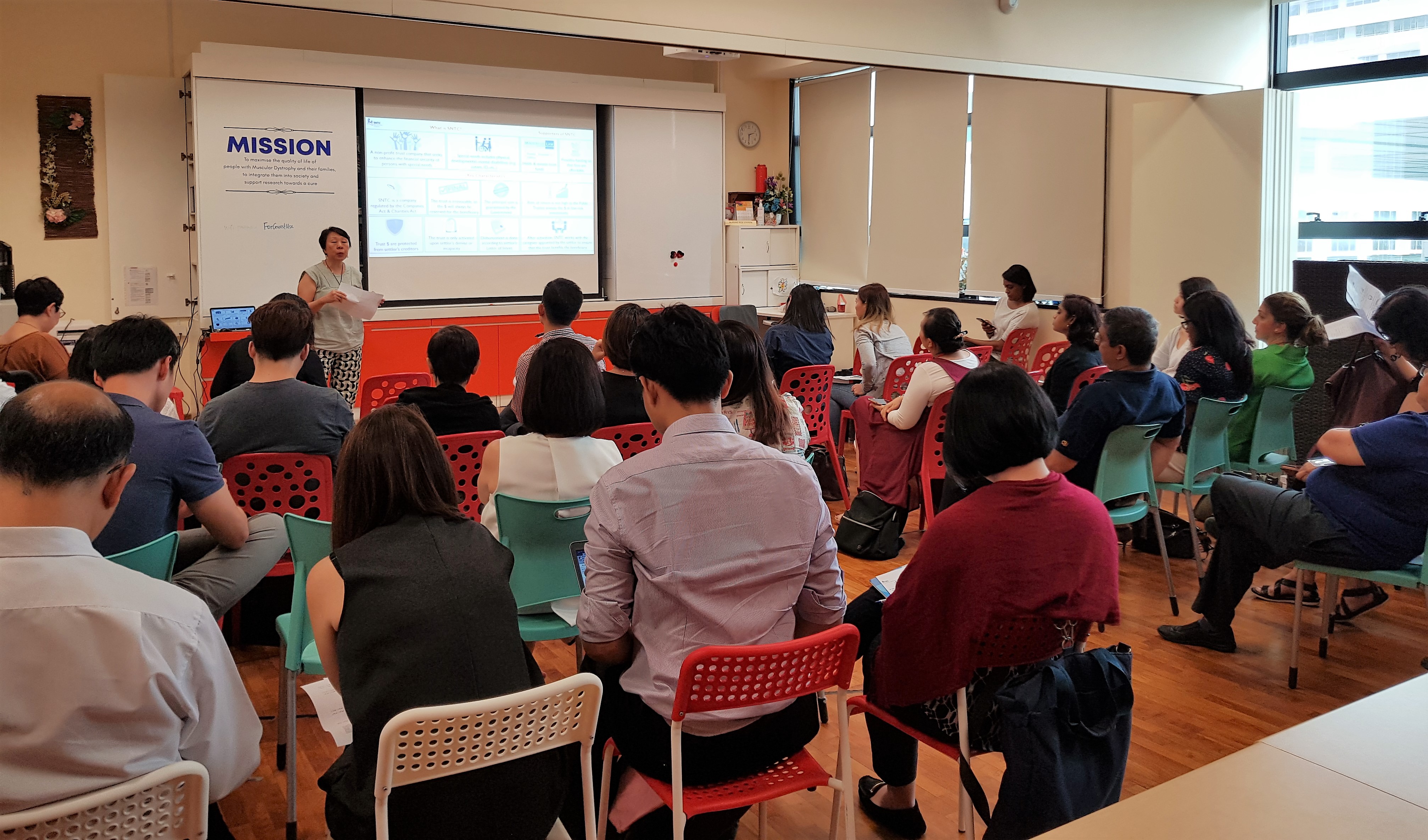 Agenda
| No. | Agenda Item | Presenter |
| --- | --- | --- |
| 1 | An Introduction to MDAS and its Caregiver Support Services | Muscular Dystrophy Association (Singapore) |
| 2 | Q&A Session on Special Needs Trust Services | Special Needs Trust Company |
| 3 | NUS One Child One Skill | NUS |
| 4 | Who Cares? Transforming the Caregiving Experience in Singapore | National Council of Social Service |
| 5 | Design Thinking for Disability: Volunteer Run Workshops to Develop Innovative Programmes | Volunteers |
| 6 | A Consolidation of Needs and Gaps in the Caregiver Support Landscape | Institute of Policy Studies |
Materials & Presentations :
https://drive.google.com/open?id=1zzLGx8tjrPaM8l9FpDnDKmCL24yBfpUz
Brief Synopsis
No.
Agenda

1

IPS Research Fellow Dr Justin Lee explained several updates to the Network:

There will no longer be a membership system for the DCN. Participants will be open to attend Planning Meetings.
Decisions at subsequent Planning meetings can be made via these approaches:

Consensus, or a solution that satisfies different interests
Compromise, where there is some give and take
Voting, where majority views prevail.

There will be a preference for Consensus, and only where that is not possible, Compromise. We will only resort to Voting when other more desirable approaches are not possible.

A draft FAQ and Theory of Change on the DCN will be shared at subsequent Planning Meetings for participant inputs.

2

The first sharing was by Ms Sherena Loh, Executive Director of Muscular Dystrophy Association (Singapore) (MDAS). Ms Loh talked about the work that MDAS does to support persons with muscular dystrophy, including support groups, training sessions for sports such as Boccia and Power Soccer, and vocational support services.

For caregivers, MDAS offers centre and home based respite services, training, and counselling. In particular, MDAS organises an annual two-day caregivers' retreat, which allows caregivers to meet other counterparts, learn from each other's experience and to take a break from caregiving duties.

Throughout her presentation, Sherena emphasised the need to understand caregivers' anxieties and concerns, even when respite care services are available. For example, despite having a chance to rest, caregivers often express deep feelings of guilt when receiving respite care, for not being able to attend to their loved ones.

3

Ageing caregivers and the future of their adult children with disabilities constitutes a major concern for caregivers. One aspect is financial planning. In this regard, Ms Esther Tan, General Manager of Special Needs Trust Company (SNTC), gave a short presentation about the services that SNTC provides, answering questions from caregivers present on their concerns. She pointed out that the SNTC is designed for low to middle income families, and is focused primarily on safeguarding the money rather than investment returns. She also advised potential clients not to lock up too much of the money with the trust until they pass on.

4

Moving to new ground-up initiatives to help caregivers, Ms Aw Pey Ling, a final-year student at the National University of Singapore, presented her experiences as Programme Coordinator of the NUS chapter of the One Child One Skill initiative, a volunteer project that sends tertiary students to homes to teach autistic children a skill over eight sessions. Each session lasts one to one-and-a-half hours, and serves simultaneously as a source of respite care for parents.

Some caregivers who benefitted from the initiative praised it as a way for tertiary students to learn more about autism and its forms, while others suggested that students be taught certain skills to manage difficult situations, including self-protection. Ms Aw is keen to explore opening up chapters of this initiative in other tertiary institutions, and welcomes schools to get in touch with her. Parents who are keen to have students visit their kids can also contact her at awpeyling@u.nus.edu

A vigorous debate ensued over the use of the term "autistic children":

Some caregivers felt that the term was insensitive, citing traumatic experiences in the past where their children were mistreated by others who used that label as an insult. These caregivers felt that "persons with autism" was a more appropriate description to separate the medical diagnosis of autism from the personhood of the child
Others disagreed, as their children take pride in being autistic, and as the term "persons with autism" denies neurodiversity and the unique ways in which autism shapes one's personhood. 

5

Who Cares? Transforming the Caregiver Experience in Singapore is a publication that documents a project by the National Council of Social Service (NCSS) and design consultancy firm fuelfor, in using a user centric design ethnography process to understand the needs, values, hopes and fears of caregivers. In presenting the project, Ms Stephanie Tay, Assistant Manager at the NCSS Pumpkin Lab, spoke about how the research outputs are being taken forward.

NCSS is currently working with stakeholders such as Caregivers Alliance and the Institute of Mental Health, to further develop and refine the concepts gleaned. An actionable toolkit has also been developed for professionals working with caregivers. VWOs who would like to adopt or further refine this toolkit can approach Stephanie at stephanie_tay@ncss.gov.sg

6

Dr Lee presented an initiative to develop innovative disability programmes through design thinking. Led together with two other volunteers, Ms Denise Liu and Mr Desmond Wong, they called for a host organisation to work with them over three to nine months, to develop a solution to a specific problem that the organisation is facing. Volunteers, especially those with game design experience, are welcome as well. Interested parties can contact Dr Lee at justin.lee@nus.edu.sg

7

Mr Andrew Lim, Research Assistant at IPS introduced wiki.socialcollab.sg, an open collaboration initiative working towards a ground-up understanding of social needs, gaps and solutions in Singapore. He discussed a Needs and Gaps Report on Caregiver Support compiled from various literature reviews (e.g., NVPC's Report on Issues faced by Persons with Disabilities in Singapore, The Survey on Informal Caregiving, newspaper articles etc.).

Six tentative areas of needs were raised, along with resources to meet them and gaps to be filled:

Respite care
Physical health
Psychosocial wellness and support
Financial support
Future care planning
Caregiving skills and information

Several interesting volunteer initiatives were raised such as NeuroDiverCity, a website which gathers and shares inclusive services and resources, which can be reviewed by other parents. As children with autism can wander off and go missing, a group of parents set up the Facebook page Reunite Missing Children, to share information that has led to quicker re-discoveries of missing children. Participants were invited to contribute to the wiki knowledge base.

If you are interested to contribute your views to these issues, please email Mr Lim at andrew.lim@nus.edu.sg.
---
Meeting 4: Inclusion
https://lkyspp.nus.edu.sg/ips/events/details/disability-community-network-meeting-iv-inclusion
Date - Wednesday, 27 March 2019
Time - 1pm - 6pm (Registration at 12.30pm, Planning Meeting at 10am)
Venue - SportSG Auditorium, 3 Stadium Drive, Singapore 397630
IPS Newsletter Article here.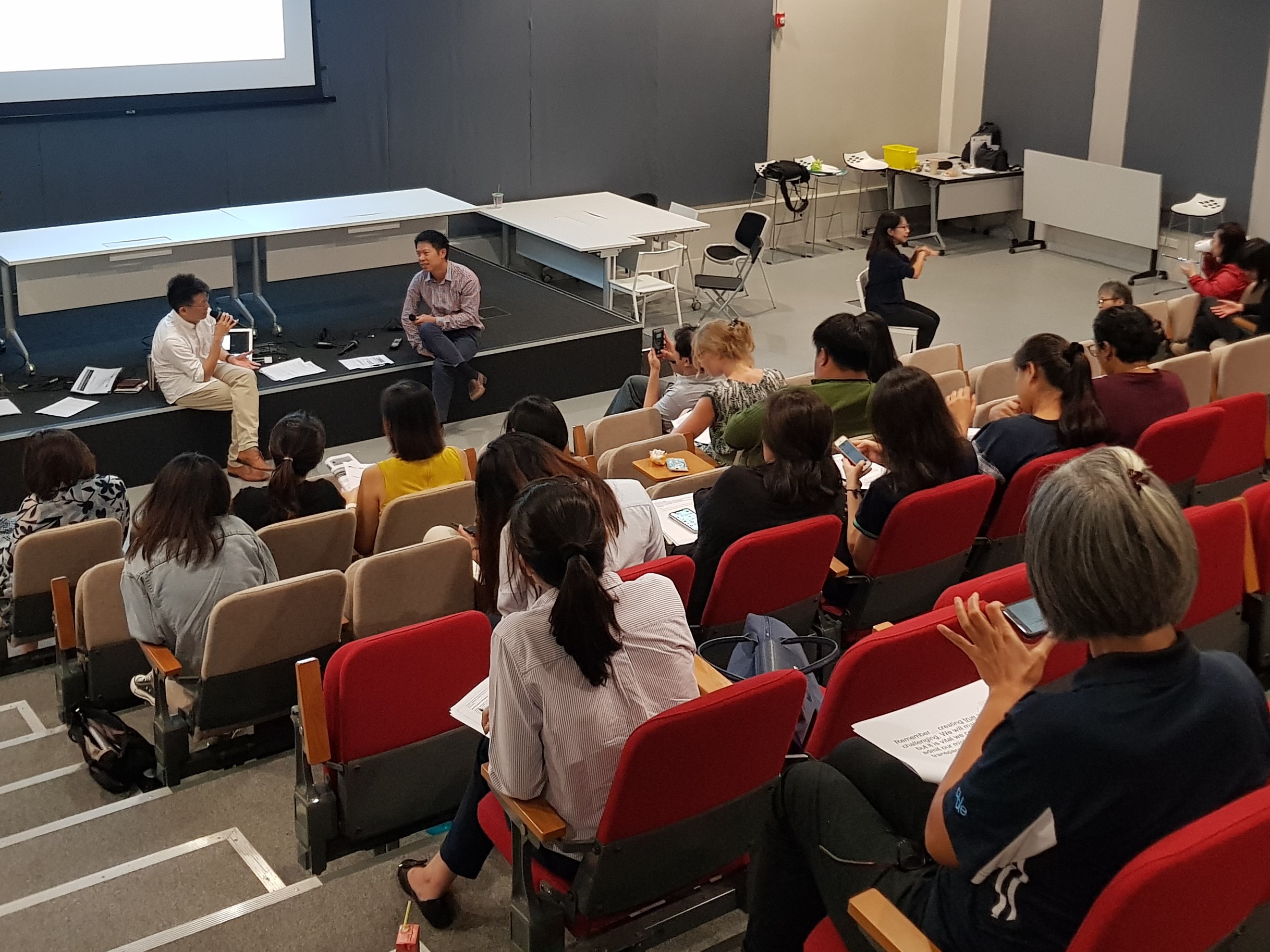 Agenda
No.
Agenda Item
Presenter

1

The AHEAD (Achieve Higher Employability Through Adapted Development) Program
Francis Tan, CEO of Trampolene

2

Inclusion through Inclusive Programming, Physical Accessibility and Sports for Communities
Debra Lam and Bernice Lim, Society Staples

3

Runninghour: Run to bond, run so others can
John See Toh, Co-Founder of Runninghour

4

Not in My Lifetime?: The Process of Building an Inclusive (Theatre) Experience
Tan Beng Tian Director, Not In My Lifetime? & Artistic Director, The Finger Players

and Alvan Yap, Freelance Editor/Writer and Playwright, Not In My Lifetime?

5

Thoughts on Disability, Sex and Intimacy
Leo Chen Ian, Founder and Partner of Insight N Access
---
Regular Facilitator Planning & Social Meetings
The facilitators of the Disability Network as well as the larger Open Collab initiative will regularly meet to make plans, discuss issues faced, share ideas on how best to run the networks. This will be a relatively informal session where we also get to know one another.
However, for those who are new and just want to find out more about the Disability Network or the Open Collab, feel free to drop by and we'll be happy to explain. You are welcome too!
Contact: Justin Lee (email: justin.lee@nus.edu.sg)
Dates - Last Friday of Every Month, 4-5.30pm (except Good Friday)
23 Feb 2018 - IPS Meeting Rm
29 Mar 2018 - IPS Meeting Rm
27 Apr 2018 - IPS Meeting Rm
25 May 2018 - IPS Meeting Rm
29 Jun 2018 - IPS Meeting Rm
27 Jul 2018 - IPS Meeting Rm
31 Aug 2018 - IPS Meeting Rm
28 Sep 2018 - IPS Meeting Rm
26 Oct 2018 - IPS Meeting Rm
30 Nov 2018 - IPS Meeting Rm
28 Dec 2018 - IPS Meeting Rm
Venue - IPS Meeting Rm is at 1C Cluny Road, House 5, Singapore (259599)
Meeting Structure and Rules
General
-Aspire to have quarterly meetings per year: partners set agenda and simple polling can be done to prioritise
-All partners will automatically be invited to attend. Associates will be invited based on the issue at hand and partners can deliberate who they want to invite. e.g. VWOs may not want their funders or regulators present as it may impede forthcoming dialogue or sharing.
-Partners will also discuss and source for speakers where their presence is required to shed light on knowledge gaps of interest.
-Between the quarterly meetings, partners are free to have separate meetings, commission studies or seek partnerships to investigate or discuss issues not on the main agenda, but will be integrated into the annual needs and gaps report.
-All reports will be sent to partners for their inputs and final approval before it becomes 'official' and published online.
-Where a partner is not able to make a meeting, they should aspire to send a deputy. Reports will be sent to all partners so that they get a chance to provide inputs even if they were unable to attend. (In order not to hold back publication dates, reports will reflect which partners who were unable to provide inputs in time, and these rpeorts be amended once they are able to).
-Where partners disagree on the content or position taken by the paper there are various options:
1) If there is a majority view, the paper can be written to reflect that, but capturing the organisations who dissent and their reasons.
2) Not publish a position paper if the opinions are relatively split.
3) Publish a paper that reflects the diversity of views and their rationale, so that there is a documentation of the report.
Meeting Structure
PRE-MEETING:
1-Take Stock of Needs and Gaps
2-Convene to Prioritize Knowledge Gaps
3-Set Meeting Agenda for the Year

EACH MEETING:
1-An issue brief will be sent out to partners before convening
2-Take stock of knowledge gaps and prioritise them
3-At the meeting, partners will deliberate on proposed policy recommendations or advocacy positions: policy or position paper will be written based on deliberations
4-Decide on how to present position if there is no consensus
5-Coordination and division of labour: Follow-up items; who will investigate what?
6-At the end of each session, there will be an opportunity for partners to reflect on and suggest amendments to all the various the guiding principles and rules of the Disability Network.

AFTER LAST MEETING:
1-Consolidate all findings for Annual Needs and Gaps Report
2-Facilitator will write up and send to all partners
3-Once approved by partners, report will be published online
Deliverables and Products
1-Issues briefs prior to each session
2-Position papers or policy briefs as a result of each session. There can also be feasibility studies, programme proposals, collective impact plans depending on the interests of the partners.
3-A needs and gaps report to be written at the end of the year
Useful References
On building networks
On how to facilitate good conversations
Some principles of facilitating group dialogue https://www.icasc.ca/resources/holding-space
Disability Councils and what they do
http://www.disabilitycouncil.nsw.gov.au/
On referendums and democratic decision-making
Switzerland's unique form of direct democracy allows groups of citizens to call for national referendums on specific policies if validated signatures of 100,000 Swiss citizens are collected in support of a proposal. Possible to consider a similar mechanism for networks here.
Justifications for running networks like this
From Steven Johnson (2001) Emergence: The Connected Lives of Ants, Brains, Cities and Software: complex systems exhibit emergence because they "solve problems by drawing upon masses of relatively (simple) elements, rather than a single, intelligent "executive branch." They are bottom-up systems, not top-down. They get their smarts from below. In more technical language, they are complex adaptive systems that display emergent behavior. In these systems, agents residing on one scale start producing behavior that lies one scale above them: ants create colonies; urbanites create neighborhoods; simple pattern-recognition software learns how to recommend new books. The movement from low-level rules to higher-level sophistication is what we call emergence" (Johnson 2001: 18)
Tips for giving good feedback at Networks
-be honest
-be specific (explain what you disagree with or don't understand)
-be constructive (suggest how to improve)
-comment on the most important things first